The Podcast Series
Our interests in doing a podcast series on places and spaces in the City of Atlanta are linked directly to the fact that the Ivan Allen College of Liberal Arts serves as a steward of the legacy of Atlanta Mayor Ivan Allen Jr. and also to the innovative work that we do in the College at the intersection of the humanities, social sciences, and technology. This project offers us an exciting opportunity to show the value and impact of using a deliberately interdisciplinary approach to: deepen the knowledge of various audiences about Atlanta's rich history and culture; celebrate the tenacity and spirit of a wonderful city; and proclaim these legacies as a critical advantage in our ability as an urban site to lead in addressing current and future challenges—locally, nationally, and internationally.
Connections to Mayor Ivan Allen, Jr.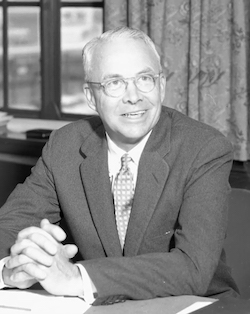 Ivan Allen, Jr. was an astute business leader who led his family's business for many years. He served also as a leader of the Metro Chamber of Atlanta, as did others in his family. He is best known, however, as a two term Mayor of Atlanta who provided visionary and courageous leadership for the city during one of the most tumultuous periods of social and political unrest in our nation (1962-1970) and during a time when the cityscape of Atlanta was changing dramatically. A central point of inspiration for his leadership was the question of what it would take to move Atlanta from its position as a rather provincial southern city, whose identity was firmly anchored in the fact that it burned during the American Civil War, to a top tier innovative urban environment capable of setting a distinctive pace for the nation and the world.
Mayor Allen's answers to this question of urban development and transformation were shaped by a robust six-point plan that directed attention specifically to: the arts, professional sports, transportation systems, education, economic development—locally and internationally, and cooperation and progress in race relationships. The legacies of his leadership in all of these areas offer considerable evidence that Mayor Allen was a loyal native son who exhibited an abiding love for his city, and that he succeeded remarkably well in bringing a robust vision for a modern Atlanta into reality. If you would like to know more about Mayor Allen's leadership, see: the Ivan Allen Digital Collection (https://ivanallen.iac.gatech.edu/) .

Description, Mission, Priorities
With the Building Memories Podcast Series, we honor Atlanta's richly diverse history and culture through places and spaces, but also through a recognition of some of the people who occupied them. As a city infamous for its meteoric rise out of the ashes of the American Civil War and for its habit of destroying older structures to build new ones, this series seeks to draw attention to the built environment in the context of the lives of the people. We contend that the material realities of places and spaces in Atlanta is that sometimes key buildings no longer exist, or that they exist in disrepair waiting to be purchased and torn down, or that quite often, the sites have been restored perhaps and enhanced but that current uses are often un-connected to the original uses with no obvious acknowledgement of the history of the spot or its cultural connections. Still these sites are actually memorialized in our memories and in our stories. We contend that it is past time to bring these more personal or community-based memories into public memory and lore.
The mission of Building Memories, therefore, is to preserve community stories, with emphasis on the documentation of narratives that are often stored and nurtured in the hearts and souls of individual people (some famous, others not so famous), but often unknown outside of a given community. The priorities are to:
Bring community-based experiences and accomplishments out of the shadows of the larger mythological views of Atlanta historically and to locate them within the actual geographies of the city.
Share these narratives with broader audiences through the use of digital technologies with the intention of encouraging a deepening of public understanding and public lore about Atlanta—past, present, and future.
We posit that the benefits of enriching public lore about the places, spaces, and people of Atlanta will be a distinctive value added in re-framing Atlanta as a more fully rendered vibrant urban space in the 21st century. The core value is that we will have a more robust foundation upon which to consider another version of the question with which we began: What should a city do, not only in the ever-evolving need to transform itself, but also to respond well to the challenges of urban living in the 21st century? We contend that one strength that a 21st century city needs to have is three-fold. It needs: a well-documented, robustly defined and understood view of its past from the multiple perspectives and experiences of its people; a thoughtfully rendered sense of its present conditions, challenges, and opportunities – also from multiple perspectives; and a fully engaged collective vision of a desirable future. In our view, this strength is anchored by our ability to share with each other our stories of past, present, and future in their bold variety as we engage across community boundaries to live, work, and thrive—together.
The Structure of the Podcast Episodes
Each podcast episode has two parts. One part is the podcast about a specific site. We interview people who have lived, worked, and enjoyed the space so that we can see and understand the site through their eyes, knowledge, and experience. A second part is a short narrative. We tell a short narrative that is designed to place the information shared in the podcast within a socio-historical context to encourage the listening-reading audience to learn more about the specific site and the people over time who have been associated with it. Currently, we are in Season Three of the program. Season One episodes included:
The Herndon Home
Herren's Restaurant
Auburn Avenue Research Library
The Atlanta Daily World Building
Friendship Baptist Church
Booker T Washington High School
Historic South-View Cemetery
Season Two episodes included:
Paschal's Restaurant
Prince Hall Masonic Lodge
Just Us Neighborhood
Cabbage Town
O'Keefe High School
Big Bethel AME Church
The Birdhouse Project
Season Three is underway and will include the following episodes:
Wachendorff Estate
MLK Corridor
Phyllis Wheatley YWCA
Butler Street YMCA
Carrie-Steele Pitts Home
The Biltmore
Royal Peacock
We are grateful to Adrianna Brown (CS – Media & People '20) for creating the Building Memories logo.